The RSM Classic wouldn't be possible without the help of our many volunteers. Our goal is to create a friendly and enjoyable experience for our patrons, PGA TOUR players, hospitality partners and volunteers alike! We appreciate the dedication, flexibility and friendly demeanors of all our volunteers to allow the tournament to reach this goal.
We will review your volunteer application and will assign you to a committee based on our needs and your committee preferences.
RETURNING VOLUNTEER LOG-IN
If you have volunteered in the past and already have a volunteer account, please use the following link to access your account:
You will be asked to provide your username and password to access your volunteer account.  Once you have created a volunteer account, you can access this account to view your volunteer schedule at any time.
VOLUNTEER REGISTRATION FOR 2018 IS CLOSED
If you would like to receive information regarding volunteering for the 2019 RSM Classic, please click below.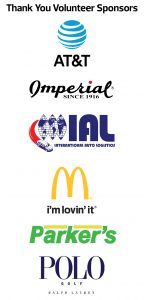 Text Alerts
If you would like to receive important tournament updates such as weather alerts and changes to tee times, text "RSMClassic" to "84483".
POLO Golf Shirt
POLO Golf Jacket
Tournament Cap or Visor (included in the uniform) or a Sun Hat (at an additional cost)
Two (2) Good Any One Day tickets to attend The RSM Classic
Volunteer Badge that grants access to the tournament even on days you are not scheduled to volunteer
Commemorative Pin
Food provided for each shift worked
Complimentary round of golf at Sea Island Golf Club (must complete a minimum of 12 hours of volunteer service)
Must be at least 16 years of age by the start of tournament
Must purchase your own volunteer package ($80)
Must work a minimum of 12 hours (number of shifts may vary depending on your committee assignment)
Must provide a valid email address as most of our communications are by email