The RSM Classic wouldn't be possible without the help of our many volunteers. Our goal is to create a friendly an enjoyable experience for our patrons, PGA TOUR players, hospitality partners and volunteers alike! We appreciate the dedication, flexibility and friendly demeanors of all our volunteers to allow the tournament to reach this goal.  
Click on each of the committee titles below for a description about each volunteer committee:
Admissions & Will Call
---
The main tournament Will Call is located in the general parking area at McKinnon/St Simons Island Airport. A second location will be positioned near the main tournament entrance for patrons who choose to bike to the tournament. Responsibilities include:
Selling tickets for the golf tournament
Fulfilling ticket orders that have been pre-purchased through the website
Distributing volunteer uniform packages for our out-of-town volunteers
Managing the tournament's Lost & Found items
Will Call will be open Monday through Saturday from 7am to 4pm and Sunday from 7am to 1pm.
Committee Chair: Jon Langford
Ambassadors
---
Located in high traffic areas and the main entrance, Ambassadors act as on-course greeters for our patrons to answer questions they may have while on the grounds. Responsibilities include:
Greeting tournament guests as they arrive on the grounds of the tournament
Answering patron questions relating to directions, pairings, tee times, etc.
Distributing Official Spectator Guides and Pairings Sheets
Ambassadors will be scheduled Wednesday through Sunday and have the option of working a morning or afternoon shift each day.
Committee Chairs: Julie Ackerman, Steve Holt, John Pope
Caddie Services
---
The Caddie Services committee is responsible for assisting the Caddie Master during tournament week. Responsibilities include:
Caddie Registration
Maintenance of caddie bibs and towels
Distribution and collection of caddie bibs each day
General assistance in the main Caddie Tent
The Caddie Services committee will be schedule each day, Monday through Sunday, and will have the option of working a morning or afternoon shift.
Committee Chair: James Loggins
Ecology
---
The Ecology committee is responsible for the maintenance of recycling containers and trash receptacles throughout the tournament grounds. Volunteers are schedule to assist with these duties Wednesday through Sunday.
Thanks to a very high retention rate, very few new volunteers are assigned to this committee.
Committee Chairs: Jean Stacy, Chris Tolleson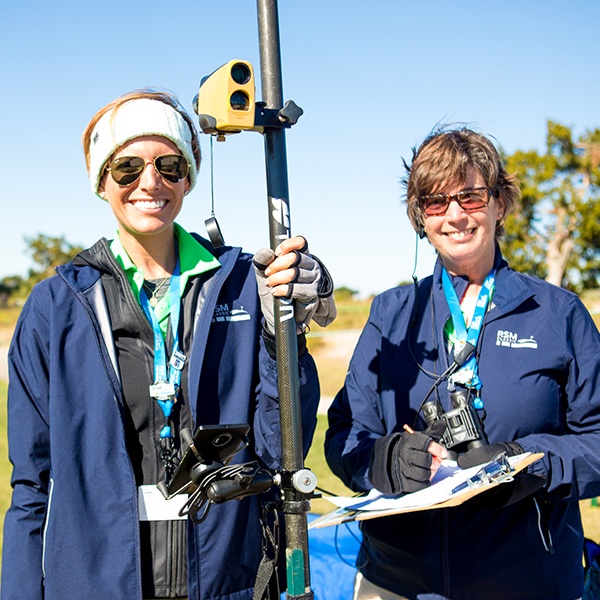 Laser Operators
---
Laser Operator volunteers are a part of the Scoring Committee and are responsible for recording each golf shot by using trigger-type lasers, survey grade lasers, and a palm device. Operators are needed for both the fairway and greenside lasers (located in small towers). Training and on-site support will be provided by PGA TOUR ShotLink staff. Volunteers are needed Thursday through Sunday.
There will be a MANDATORY meeting to attend the weekend prior to tournament. Wednesday is a practice day for running the laser equipment. Volunteer shifts are full-day shifts approximately 5 to 6 hours for each shift. Two-full day shifts will fulfill your minimum 12 volunteer hours, however, we encourage the additional help if you are available!
Committee Chairs: Stewart LaFave, Joe Wills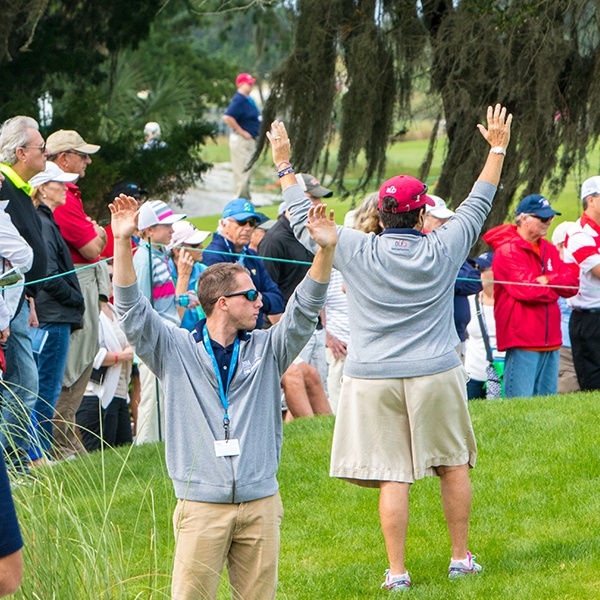 Marshals
---
Marshals are the largest group of volunteers and are essential to operating a successful golf tournament. Responsibilities for Marshals include:
Maintaining crosswalks and player walkways between holes
Monitoring crowd noise
Assisting patrons with questions and assistance in case of emergency
Marshals will be scheduled Wednesday through Sunday. Wednesday will consist of a longer shift (approximately 8 hours), while all competition days (Thursday – Sunday) will consist of one shift approximately 6 hours. We request that you schedule at least one of your two Marshal shifts on Saturday or Sunday.
Committee Chairs: Tom Morefield, Mark Sertich, John Johnson, Clarence Strahan and Bob Terjesen
Monster Board
---
There are two manual Monster Boards at the tournament: one in the village area and one near 9 green. Volunteers on this committee are responsible for maintaining the hole-by-hole scores of the tournament leaders on these two boards. Please note, volunteers assigned to this committee may be asked to climb a ladder. The Monster Board committee will be scheduled, Thursday through Sunday, from 10am until the conclusion of play.
Committee Chair: Carol Clapp
On-Site Shuttles
---
The On-Site Shuttle committee will responsible for two primary services:
Transporting PGA TOUR Professionals on-course
Operating shuttle services for patrons with physical limitations to and from the main "Special Needs" shuttle drop area
Shuttle routes for On-Site shuttle drivers have been predetermined and it is mandatory for all volunteers to attend training. The shuttles will operate Monday through Sunday of tournament week with additional shuttle routes Wednesday through Friday while we are utilizing the Plantation Course.
Committee Chairs: Rick Shelnutt, Fleming Martin
Player Transportation
---
Volunteers assigned to the Player Transportation committee will have the opportunity to drive brand new cars courtesy of BMW! Responsibilities for this committee include:
Collection and staging of Tournament Vehicles to various airports and main locations(Saturday before tournament week and Monday following).
Transporting players and their families to and from regional airports (including Jacksonville Int'l Airport and Brunswick Golden Isles Airport)
Escort players and their families on a per request basis throughout tournament week
Volunteers on this committee must be 21 years of age with a clean driving record and will be required to submit a background check. Volunteers for the committee are needed from the Friday before tournament week through the Monday following. In addition, all Player Transportation volunteers are encouraged to bring a book, iPad or other reading material as there may be some waiting time during shifts.
Committee Chairs: Clark Drumm, Diane Smoot, Lisa Kaspar, Bryan Stephens
Practice Range
---
Practice Range volunteers will assist players and their caddies on the Practice Range and will be responsible for:
Sorting ball types and filling range bags
Maintaining Driving Range signs placed behind each player on the range
Keeping the Practice Area clean and organized
Assisting the Sea Island Golf Performance Staff with additional duties throughout tournament week
Volunteers on this committee will be required to submit a photo for their volunteer credential. Volunteers are scheduled from Monday through Sunday with both morning and afternoon shifts. Please note that due to a high retention rate of volunteers on this committee, new volunteers are not often assigned.
Committee Chairs: Jeff Bennett, Jim Goodis
Security
---
The Security Committee works directly with local law enforcement and paid security to:
Check tickets for access into restricted areas such as hospitality venues, the Tournament Office, and Media Center
Provide directions and answer questions for patrons
Welcome guests as they enter restricted areas
The Security Committee is scheduled from Thursday to Sunday with a few positions available, Monday through Wednesday.
Committee Chairs: Carl Alexander, Gene Alexander and Eddie Wildsmith
Standard Bearers
---
As a Standard Bearer, you will have the opportunity to walk along with a group of PGA TOUR players inside the ropes. The role of a Standard Bearer is to show the gallery who is playing in their assigned group and to display each of their scores relative to par. Volunteers on this committee are expected to:
Carry a Standard (small scoreboard) for a group of PGA TOUR players
Keep the score for each of the players in your group updated
Understand and practice the rules and etiquette of golf
Please note, all volunteers on this committee must be able to walk long distances
Committee Chairs: Dorris Burton, Jeff Burton
Supply Distribution
---
The Supply Distribution committee is responsible for ensuring drinks and snacks are distributed to a number of locations throughout the course. Volunteers will also service a snack and drink cart specifically for other volunteers positioned on-course.
Please note, the tasks assigned to this committee are physically demanding. Volunteers assigned to this committee must be able to lift and move heavy objects. This committee is scheduled all week, Monday through Sunday, with most shifts before and after play is complete.
Committee Chairs: Bud Lensch, Mike Poillucci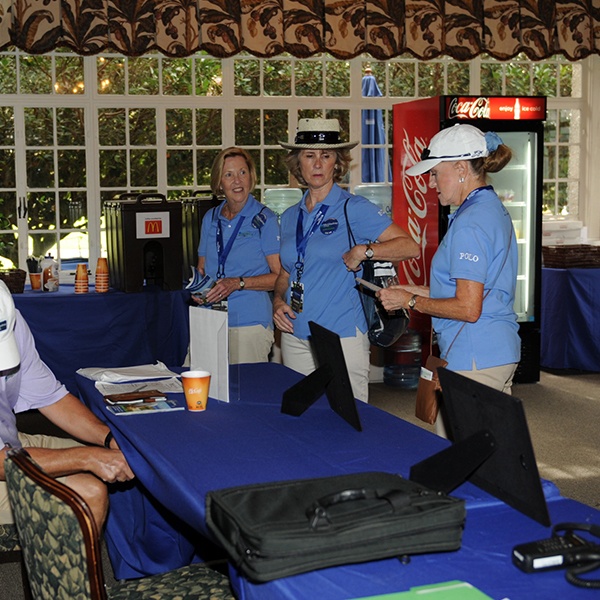 Volunteer HQ
---
Volunteers assigned to Volunteer Headquarters are here to "do what needs to be done." While assignments vary from day to day, the Volunteer Headquarters committee is available for any committee that needs additional assistance. This committee also assists prior to Tournament Week preparing volunteer materials for distribution and staff our Volunteer Uniform and Credential Pickup.
Committee Chair: Barbara Van Buskirk, Sue Donnolly and Stacey Bristol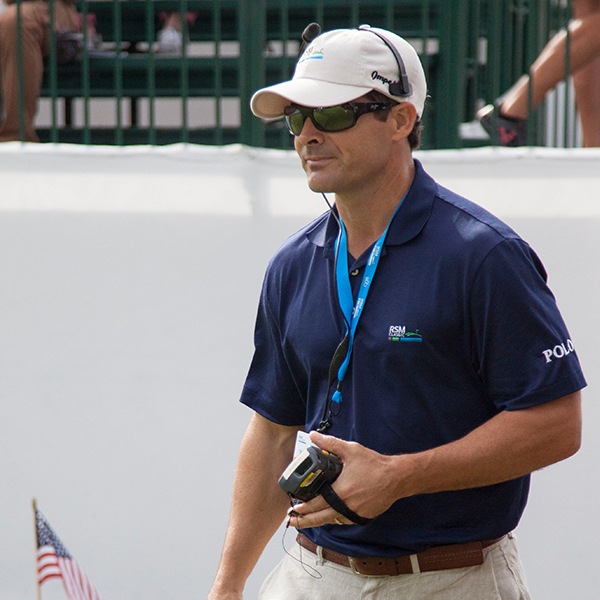 Walking Scorers
---
The job of a Walking Scorer is to walk with a group and keep their score and specific statistics. You will be issued equipment which includes a handheld device and voice radio that enables you to be in constant communication with the ShotLink staff. It is critical that the scores and statistics recorded are accurate for every player in your group.
Volunteers assigned to this committee must have an understanding of the game of golf and been a volunteer for The RSM Classic in the past. In addition, it is mandatory for all Walking Scorers to volunteer for the Wednesday Pro-Am and attend training the weekend before tournament week.
Committee Chairs: Susan Barnett, Elaine Townsend
Presenting Volunteer Sponsor
Text Alerts
If you would like to receive important tournament updates such as weather alerts and changes to tee times, text "RSMClassic" to "84483".
Thank you to our 2020 Volunteer Sponsors: