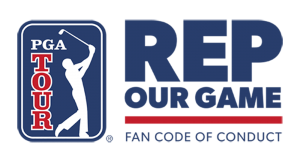 It takes the steadfast participation of everyone on-site to ensure a safe environment for our fans, guests, players, caddies, volunteers, and staff. All members of the PGA TOUR community – including spectators – are expected to demonstrate respect, enjoy responsibly, and keep themselves and others safe to the best of their abilities.
Please review all polices below before arriving to The RSM Classic!
All devices must be set to SILENT mode at all times

Devices may be used to capture video, audio and photos (content) in all areas throughout tournament week.

Content may be used for personal purposes (e.g., personal social media); no commercial use.

No live streaming or real-time coverage (e.g., no shot-by-shot coverage).

Data use (e.g., texting) is permitted in all areas throughout tournament week.

Phone calls are allowed only in designated areas.

Please be respectful of play and do not interfere with players, caddies or media. 
Kids 15 and under will be admitted free into the tournament grounds when accompanied by an adult ticket holder
All kids, regardless of age, are required to have a hospitality ticket to enter any hospitality areas
Access to Youth Zone is complimentary for all children with an adult ticket holder. Youth Zone is located near the Golf Performance Center (far right side of range) and is open Thursday-Sunday of Tournament Week.
Per CDC Guidelines, regardless of vaccination status, mask are required at all times indoors or in fully enclosed spaces, unless actively eating or drinking.

Per CDC Guidelines, fully vaccinated individuals are not required to wear a mask outdoors unless otherwise mandated by state or local law or regulations and unvaccinated individuals should wear a mask outdoors when they cannot be socially distant or otherwise mandated by state or local law or regulations.
Spectators will be alerted to weather that is potentially dangerous

Weather warnings will broadcast on electronic leaderboards that are located throughout the golf course

Spectators should take appropriate precautions upon observing any weather warnings

A prolonged blast on an air horn, repeated once, will indicate that tournament play has been suspended and all attendees should seek safe shelter immediately

Two short blast of an air horn, repeated once, will indicate play has resumed

Avoid the following: hilltops, high areas, golf carts, isolated trees and wire fences
Knives, firearms or weapons of any nature (Even with a permit, violation is a felony ARS Sec. 13-3102)

No cameras (Thursday – Sunday)

No bags larger than a small purse (6″ x 6″ x 6″), including lawn chair bags or umbrella sleeves

No posters, signs or banners

Coolers and beverages, other than a sealed water bottle or special items such as baby formula

Review an entire list of prohibited items by clicking here
Certain items are restricted at PGA TOUR events. Purses must be smaller than 6″x6″x6″.

Please click here for official PGA TOUR bag policy

PGA TOUR measures require patrons to agree to security wanding before entering the course. All items are subject to search. You will be asked to return all unauthorized items to your car before you are allowed to enter. The tournament does not provide a "check" facility, therefore attendees are urged not to bring restricted items. Click here for list prohibited items